What Are The Best Bi Fold Doors In 2023?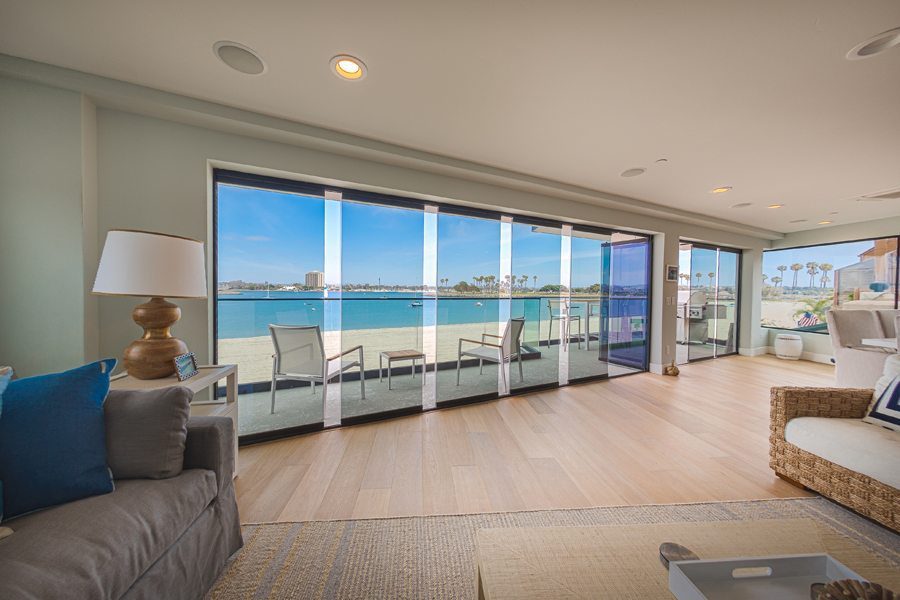 Bi fold doors have made indoor-outdoor living possible for many homeowners. With an effortless motion of your hand, you can open your home and immerse yourself with the outdoors from the comfort of inside your home.
For most homeowners, however, this system of bi fold doors could be a new concept. That is why we are here to help you learn more about these amazing doors so you will know which bi fold system would be perfect for your project.
Materials for your bi fold doors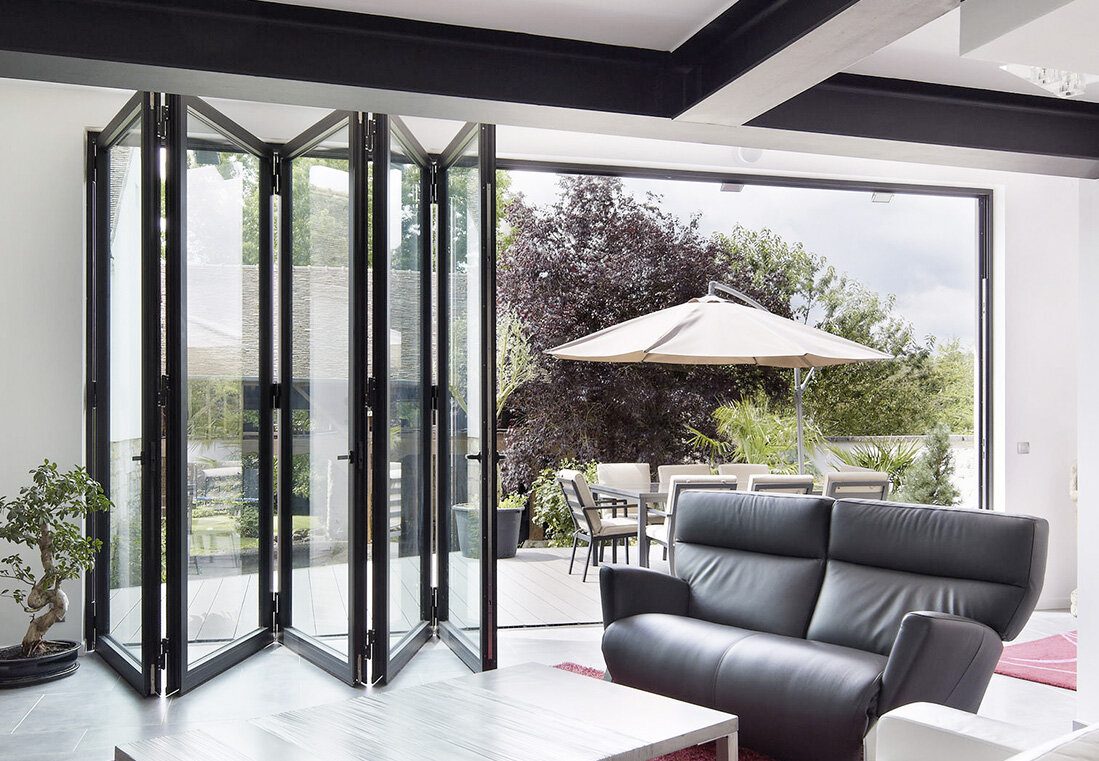 Being a homeowner, you would want to know which material may be best for your property and because bi-folding patio doors are a gateway into and out of your home so making sure the best materials used for your doors is a top priority.
A popular choice for the framing of your folding glass doors is aluminum. The aluminum is durable and comes with low-maintenance costs. As for the glass, traditional patio doors typically use a single layer of tempered glass.
Our bi fold doors are made of two half inch thick pieces of tempered glass laminated together and are certified as safety glass. Our glass is also coated with low-E technology to reduce your energy cost and protect your indoor furniture and belongings from the harmful UV light that these types of patio doors bring.
Sizes and other requirements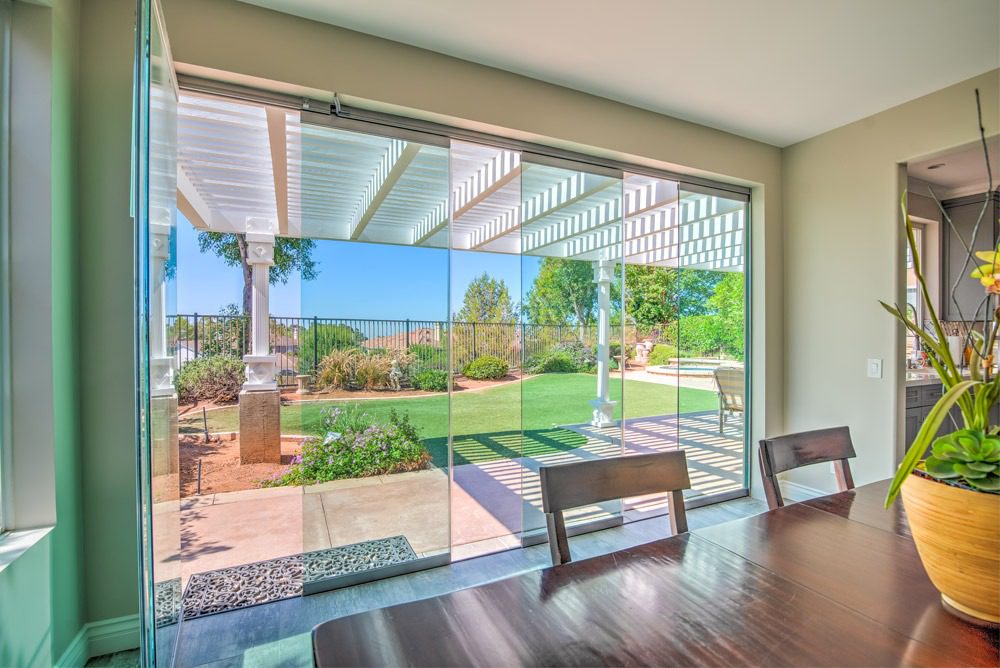 For framed bifold doors that obstructed views of the outside, it is important to go for the proper size of the panel. A wider panel will have less frames to block your view. Or you can choose to remove the frame all together with frameless bifold doors.
At Cover Glass, we take into consideration your every requirement, including size and dimensions. The maximum size of our bi fold panels are 34 inches per panel. Depending on your project, you can get the custom fit according to your requirements. Because we are frameless, you get amazing unobstructed views. If your home has a stunning view that you want to take full advantage of, then going frameless is a no brainer.
Gorgeous appeal and color options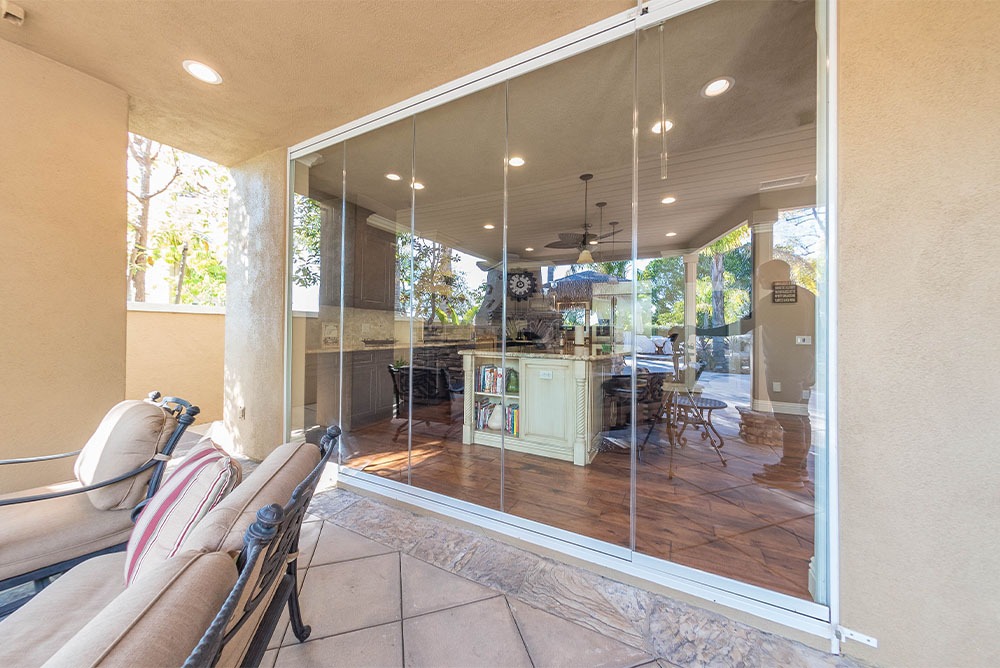 Best bi fold doors are those that enhance the look of your property. These are the ones that are as functional as they are beautiful. When choosing the right doors, you must consider color options and finishes in order to maintain the flow of your home.
With hundreds of color options available for our frame and all the best glass colors available like bronze, reflective, and even blue tinted glass, Cover Glass USA can customize a bifold system to match your home perfectly.
Thresholds on bifold doors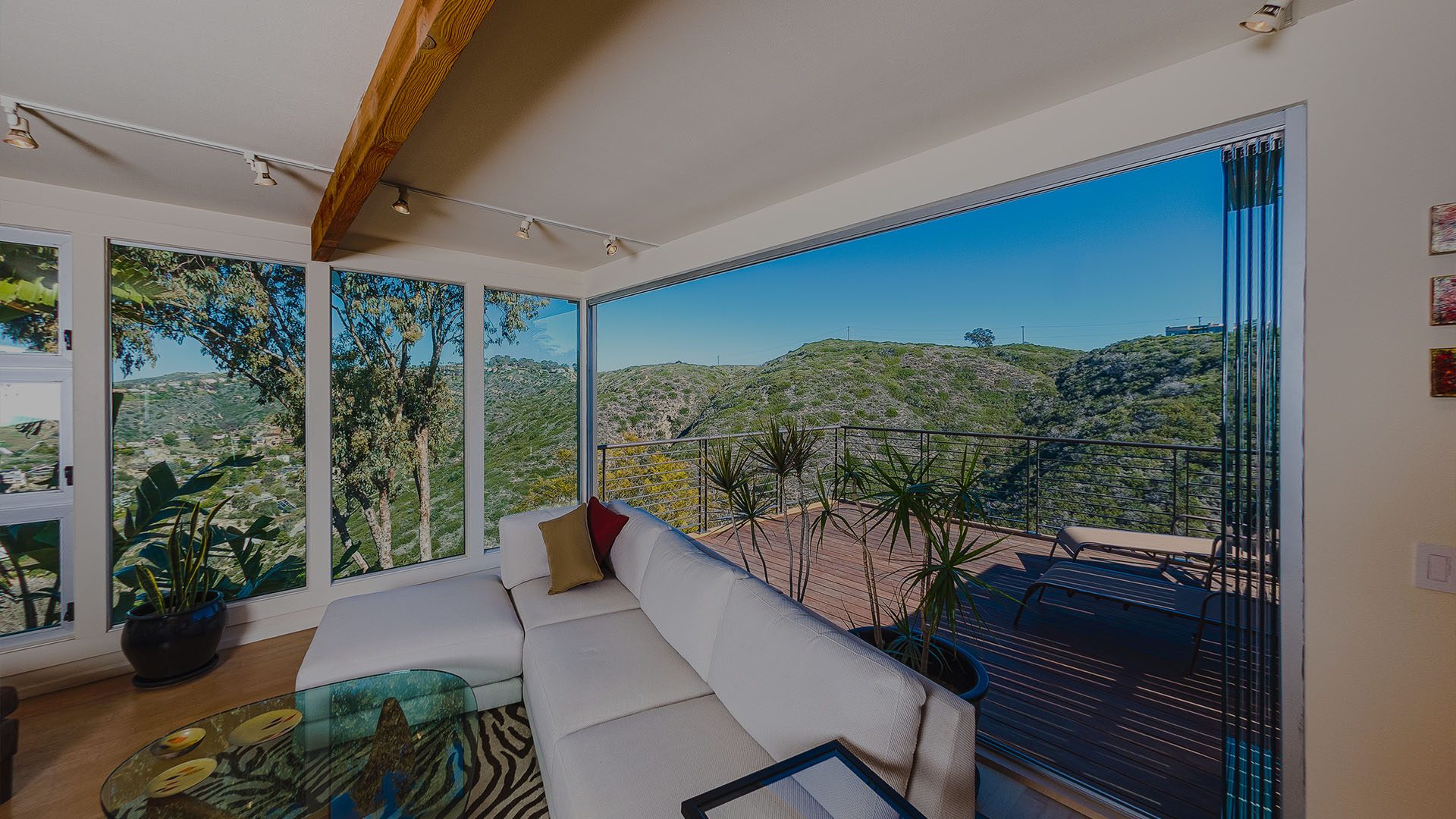 Another important feature that you must not ignore is the threshold of the bifold door, especially for the patio. It is designed with a material that makes indoor and outdoor moving possible. It should be low or flush, so you don't trip up when entering and exiting the space.
Keep in mind, though, the threshold may or may not be achieved perfectly. That is because every system is unique. But it's always best that you seek assistance on this aspect if you want to achieve it. At Cover Glass, we look to make every project have that clean flush finish. We offer you assistance and guidance on this so you'll get an idea of how it will work for your project!
Which bi fold doors should I choose for my project?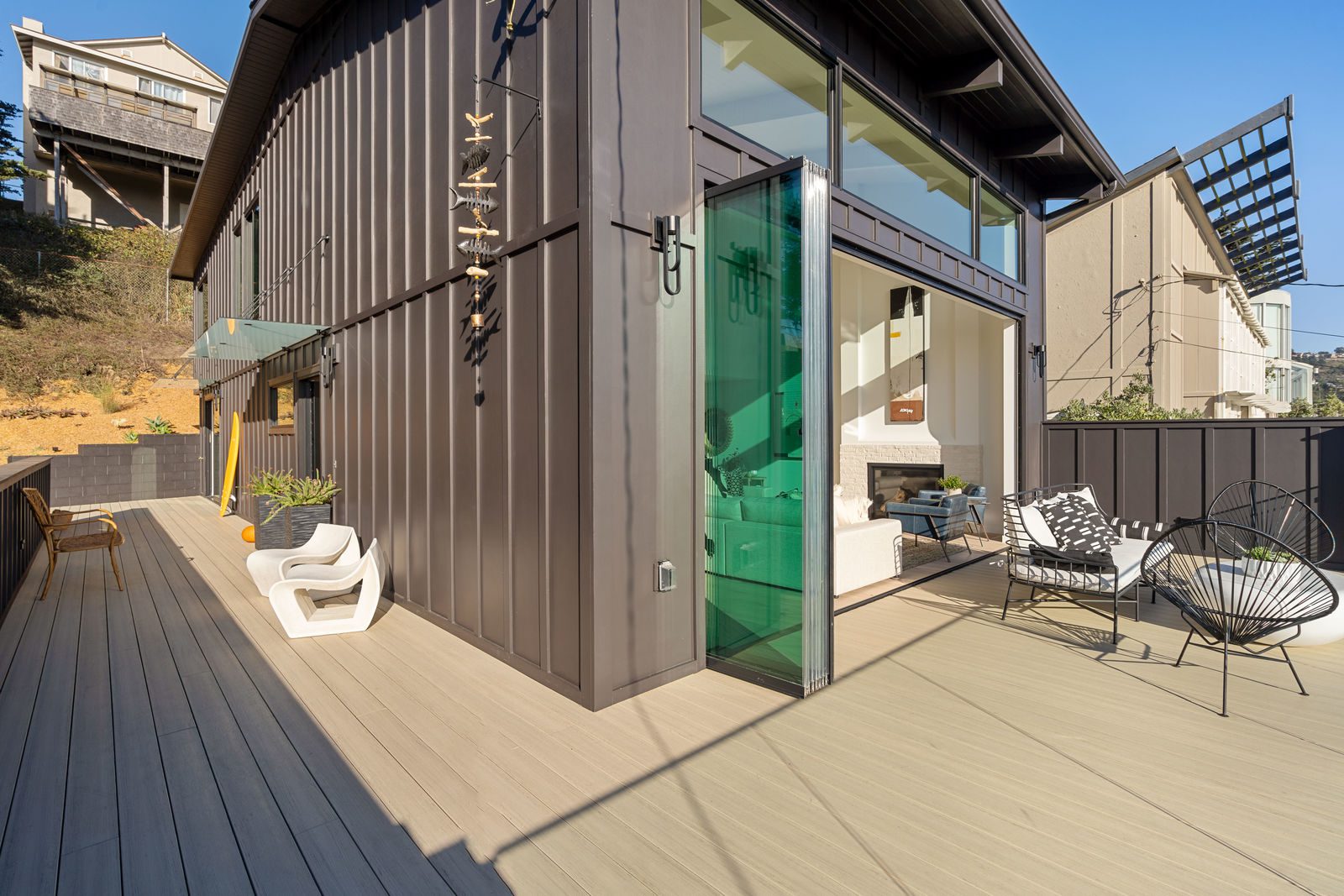 The demand for frameless bi fold door systems will continue to grow in 2023. You'll see many homes in the USA that will have this system installed. But with plenty of companies and choices, it can get overwhelming for you to make a purchase decision.
The best way is to choose the system that fits your needs and requirements. So let's say that you would prefer more natural light, what sightlines should you go for? Of course, you would go for minimal or slimmest sightlines. The best thing about the Cover Glass bifolding door system is our unique ability to remove frames from blocking your view! The frames are invisible and clear, allowing the natural light to pass through easily.
Besides natural light, the slim sightlines of the bi-folding door system can increase the thermal feature of your door. Depending on your personal preferences, you can always speak to us. With our assistance, you can get your dream project designed as you want!
Are bi fold doors safe and secure?
Every homeowner begs the question of how safe is bi fold door system. The factors that make bi fold doors secure are the quality of the material and the locking system. Though many companies ensure a secure locking system, they neglect other key features to enhance security. Most of them use regular glass material. This is where our system of frameless bi-folding doors makes a mark. The security of our bi-folding doors isn't limited to the locking system, but also the quality of the doors. The bi-folding doors at Cover Glass are made of 2 pieces of laminated tempered glass – that keeps the doors strong and secure!
How to choose the best bi fold doors?
When it comes to finally making the purchase decision, it's best to consider every aspect. We have guided the hardware, features, and products. But sometimes, it's more than just the simple guidance of the products. That's why we have highlighted some of the factors that you must consider before making the purchase decision.
Project – Each system of bi-folding doors is unique in terms of design. You can get bi fold doors for the patio, and even for other areas of your home like the kitchen. You decide to choose the design that best fits your project.
Cost – The quality and the design of your bi-folding door system depends on how much you're willing to pay. At Cover Glass, the bi fold system is cost-effective. So you get a quality bi fold door system at a reasonable price.
Thermal Performance – You should know how secure your system is against harsh winds and moisture. Our bi fold door system provides you with a sense of security with its lamented glass panels. These are strong enough for winds as strong as 222 mph.
Installation – The company that you choose for installation should be your top priority. You can't afford to do it yourself. It is always best to go for the company that manufactures the product, supplies it, and takes care of the installation.
Maintenance – Bi fold doors don't require maintenance regularly. But you should pick the material that you think would be easy to maintain. So if you choose the glass bi-folding door system, go for lamented glass. That is because, unlike regular glass panels, lamented glass panels are hard to break!
Finally, the buying decision
But which company or manufacturer should you choose to buy from? After all, the quality of products varies from company to company. The best way is to go for a company that offers guidance on their product and operation. Besides, it should be the company that takes care of your every need for bi-folding doors.
For your ease of mind, Cover Glass USA takes care of your needs at every step. We manufacture quality frameless bifold doors and provide our select installers. In case you're still not sure where to begin, you can book a virtual or in-person showroom visit.
Like Our System? Get A Free Quote
Want To Learn More About Our Frameless Doors?
Learn more about Our Company