Business Frameless Sliding Glass
Redefine Commercial Boundaries With a Glass System Unlike Any Other
Unleash the Extraordinary to Interior and Exterior Spaces
We help your dream commercial project come to a stunning reality via world-class service and a frameless sliding glass door product that transforms any space. Thanks to the depth, breadth, and flexibility of our unique glass system, we work hands-on with you to see your dream design come to life.
Optimize Commercial Square Footage
Imagine an opening sliding glass door system that creates seamless transitions and multifunctional areas that enhance your square footage. That is exactly what you get with Cover Glass USA. Instead of succumbing to the limitations of a fixed glass door frame, you eliminate an entire wall, which in turn extends usable space, and increases accessibility, foot traffic, and functionality. Our glass wall systems also secure indoor spaces for events, offices, or rooms within your business.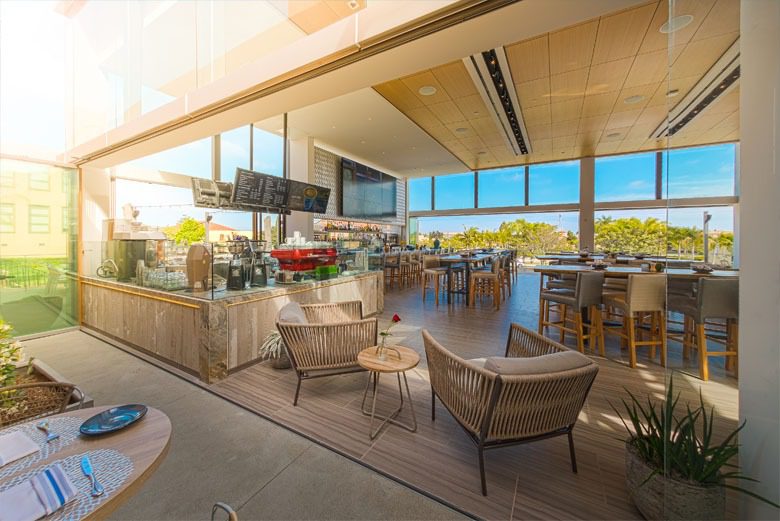 Glass Strength and Comfort for Business
With Cover Glass USA, you don't just benefit from a glass product, but also a system that is performance-tested against the elements of Mother Nature, solid objects, and sound. Once the system is closed, there is essentially nothing — whether tangible or intangible — that can penetrate through. That defines the Cover Glass USA experience: Opening walls with beautiful precision and enhancing your customers' experience while completely protecting your commercial space when closed or not in use.
Ingredients of the Exceptional
We are fully approved by the National Certified Testing Laboratories. We only use the latest generation of Low-E glass that has been tempered and laminated, with polished edges. Each system is custom built-to-order at our shop in San Diego, California, where we leave the choice up to you — from the glass color to the track color, to the swing and size of each panel, you'll enjoy frameless glass door system for years to come, knowing you've contributed to every part of the design.
Give your Business an Edge Unlike Any Other
A logical choice to add flexibility, functionality, and aesthetics to any commercial space.